Earthworms live underground in burrows. They stay underground unless it is cloudy or dark, and the air is damp. Earthworms must have wet skin to breathe.
An earthworm's waste is called castings. An earthworm deposits castings at the top of its burrow, as shown in the picture below.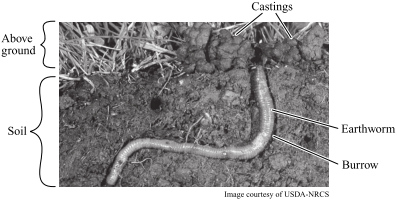 Describe

one

way that earthworm castings help an ecosystem.
Earthworm burrows are small tunnels that may be many feet long.
Identify

two

ways that burrowing in soil helps earthworms survive.
Describe

two

ways that earthworm burrows might help an ecosystem. Explain

each

of your answers.