2019 MCAS
Grade 10 English Language Arts
Question 9
Idea Development - Score Point 3
This essay is moderately developed with appropriate selection and explanation of details and adequate expression of ideas. The extremely brief introduction states that the authors of all three passages make the mood "seem mysterious and terrifying . . . by creating a sense of darkness, uneasiness, and unknown things." Organization is formulaic and by passage, as each work is addressed in a body paragraph. In Dracula, the sound of the wind conjures a "terrifying mood" in a landscape of rocks and straining trees. In Rebecca, the author depicts "trees and roots in a dark and scary way," creating "a sense of uneasiness by describing the roots as skeleton claws and nature as a terrifying thing." Sensory details establish a setting and mood of "darkness and unknown things" in Station Eleven. The writer describes a setting where "everything is gone and deserted." Throughout the essay, explanations of details from the passages start to feel repetitive rather than expansive. The conclusion summarizes the mood that all three authors create through their descriptions of setting: "[S]omething has happened here before and now all that's left is a sense of uneasiness and fear." The writer demonstrates sufficient awareness of task and mode.
Standard English Conventions - Score Point 3
The essay is sufficiently long and complex to allow demonstration of consistent control over conventions. A fair amount of text is quoted from the passages, but the writing shows control of a variety of sentence forms as well as control of grammar, usage, and mechanics.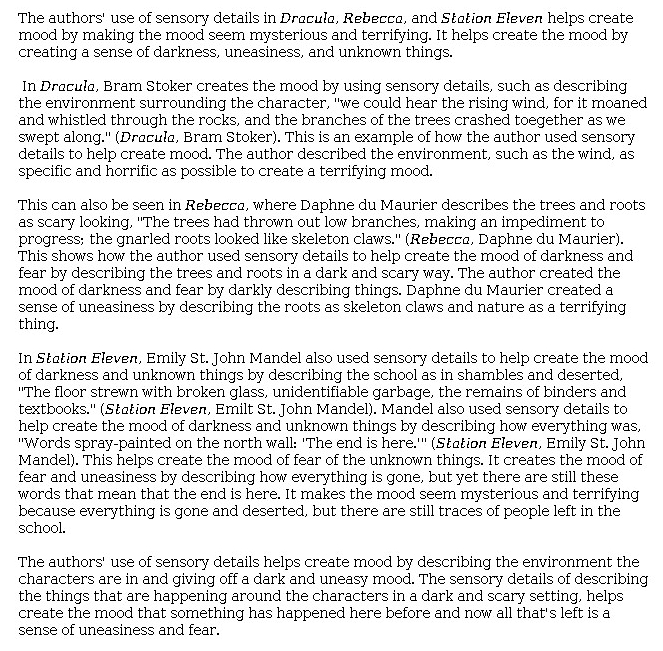 [
5 Points
|
5 Points
|
4 Points
| 3 Points |
2 Points
|
1 Point
|
0 Points
]