2018-19 School Year: Refining Our Work and Building a New Way Forward
The Department of Elementary and Secondary Education (DESE) serves over 400 school communities, more than 70,000 educators, and nearly 1 million K-12 public school students each year. We also oversee the education of more than 20,000 adult learners.
The 2018-19 school year saw us continue our efforts to support students, teachers, and schools. It was Commissioner Riley's first full school year at DESE, and he used it to develop and articulate his vision to spread deeper learning opportunities across the Commonwealth.
The 2019 annual report of the Board of Elementary and Secondary Education (BESE) is below, with opening letters from Board Chair Katherine Craven
and Commissioner Jeffrey C. Riley
.
2. Promote educator development
DESE aims to ensure that all students have access to highly skilled educators by setting high standards for educators, evaluating educators based on those standards, and providing targeted professional development.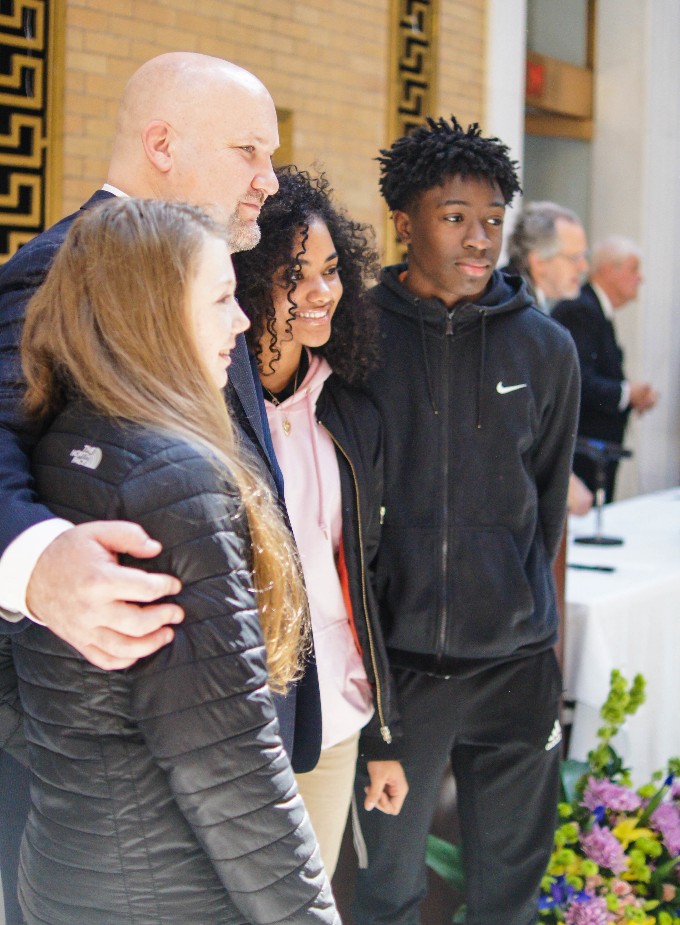 Commissioner Jeffrey C. Riley with (left to right) his daughter Maya, a Boston Public Schools student, and two Lawrence Public Schools students at the commissioner's swearing in ceremony at the Massachusetts State House on April 5, 2018.
During the 2018-19 school year, Commissioner Riley conducted a listening tour in which he visited more than 100 schools and engaged in countless conversations with students and educators. His meetings around the state also gave him a chance to hear from parents, stakeholders, civic and legislative leaders, foundations, non-profit and business leaders, teachers unions, associations representing educational leaders, and concerned citizens regarding a variety of K-12 public education issues.
The listening tour culminated in a statewide educational conference, Kairos, which challenged participants to "unleash the creative force of our educators to create the conditions for engaging instruction that leads to students' deeper, applied learning." The Kairos conference demonstrated the Commissioner's hopes for our students and DESE's work ahead, a vision that he outlined in Our Way Forward
. Our Way Forward includes the themes behind DESE's major education and public outreach campaigns: aMAzing Educators, Teach Mass, and Deeper Learning.
4. Turn around the lowest performing districts and schools
The state supports the Commonwealth's lowest performing schools and districts with evidence-based interventions to support rapid improvement for students, including improved instruction and student-specific supports.